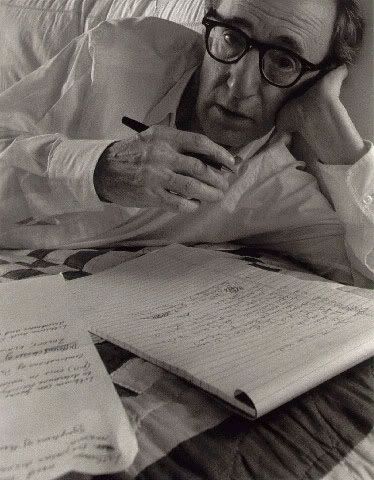 The Star Tribune is currently
running
a recent interview with Woody Allen. In one answer Allen states, as he has in one way or another on countless occasions,
"This is not rocket science. This is not a trip to the moon. It's making a movie. Which I don't mean to demean, but it's not such an arduous undertaking...In 2008, I put out "Cassandra's Dream," I'm putting out the Barcelona film, I finished shooting a film and have edited it with Larry David,
Evan Rachel Wood and Patricia Clarkson for next year. I've written a couple of things for the New Yorker magazine, I'm directing an opera for the Los Angeles Opera Company (Puccini's "Gianni Schicchi"). I've taken my band on a worldwide tour and appeared at the Montreal Jazz Festival this summer, so there's time for everything. On top of all of that I have time to take my kids to school every day, to take them to the bus to camp, to play with them, to go out with my wife, to see movies, to go to Knick games, to watch baseball."
The difficulty of this statement lies more with his audience than it does with Allen. Movie-goers have long insisted on reading Allen's films as autobiography. Ironically, his movies are often replete with characters who are wealthy yet listless and detached from doldrums of working class life; meanwhile Allen is regimented and workmanlike. More often than not, Allen spotlights Manhattan's brainy, bohemian upper crust with nary a time clock in sight; all the while Allen wakes and works to the tune of a film a year. Seldom, if ever, do you hear of him trekking to Barcelona for nothing more than to take in Gaudi. No, if he is abroad, it's a working vacation.