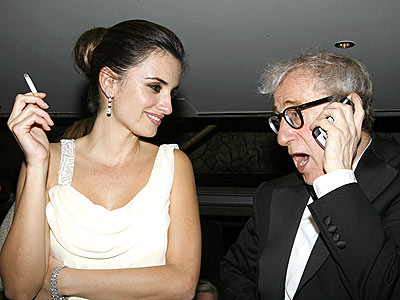 Last week, The Wall Street Journal published a worthwhile piece by Joe Morgenstern entitled
The Joy of the Ensemble
. Morgenstern writes:
As for small ensembles, they became the province of Woody Allen and Robert Altman, two filmmakers with a devotion to unusual material (as well as a gift for finding financing, however modest or precarious) and a love of what actors do with it...

Will Ferrell has never been funnier, or more adroit, than he was as a haplessly lovesick Woody surrogate in Woody Allen's "Melinda and Melinda."
Yesterday,
we brought your attention
to the Gotham nomination of Vicky Cristina Barcelona for Best Ensemble Performance. Earlier in his career, Allen's work not only featured ensembles, but he often employed a veritable repertory. This has not been a prominent feature in recent years, with only editor Alisa Lepsetter as a constant fixture and actress Scarlett Johansson as a regular. In fact, this is one of the distinguishing marks of his later works: higher turnover from film to film. Gone are
the days of Carlo Di Palma
taking the morning to light every shot.
In a terrific
Rolling Stone interview
from 1987, Allen reflects on the benefits of working with a consistent team:
RS: You use what almost amounts to a repertory company, with many of the same actors--many of them close friends of yours, such as Mia, Diane Keaton, Dianne Wiest and Tony Roberts--in each film.

WA: It's much easier to work with my own friends and acquaintances, because if I'm shooting with Michael Caine [who was in

Hannah and Her Sisters

], when I finish, he goes to India or England to shoot another picture. But Mia or Dianne Wiest or Tony Roberts, I can call them up in a moment's notice and say, "Listen, I've got a great idea for a new scene, let's meet and shoot it."

RS: Does that really happen?

WA: All the time, on every picture, constantly on

Hannah

. In the original version of

Hannah

, there was only one Thanksgiving party, at the beginning of the picture. And when I saw the picture and started to get ideas about it could be developed and amplified in a good way, I thought, you know, "Let's make it end with Thanksgiving, too. That would be a nice thing." I did that. And I said, "You know what would be really great too? If we had one more Thanksgiving party in the middle of the picture."

RS: So you just all gathered back at Mia's apartment?

WA: Right. Shooting at her apartment made things easier, too.

Some think that Allen's fall-out with Farrow marked his change from repertory troupe to ragamuffin band, but this is not the case. It was simply a matter of financing. Bernard Weinraub
shed light
on the change back in 1998:
For 25 years, Woody Allen has offered a remarkable outpouring of films using a tightly knit production staff, veterans who considered themselves loyal members of the Allen professional family.

From the outset, Mr. Allen yearned to foster the kind of creative ambiance on his movie sets that Ingmar Bergman, one of his idols, had. Like him, Mr. Allen used the same crews and many of the same actors in his films.

Not anymore.

Quietly, within the atmosphere of secrecy and control that marks Mr. Allen's creative decision making, the team that helped fashion movies like ''Annie Hall,'' ''Manhattan'' and ''Hannah and Her Sisters'' has largely broken up amid an intense effort to cut costs and overhaul the management of his operation.

Mr. Allen said the changes were entirely the result of cost-cutting measures taken because his highly praised films have not earned money in the United States. Most members of his production staff had been asked to take pay cuts to allow Mr. Allen to create his independently financed movies without the constraints of studio interference. As a result, he said, top staff members were leaving.

''I took a substantial reduction in what I was getting,'' Mr. Allen said on Friday. ''A number of people who worked for years at certain prices couldn't afford to stay on. These are good friends. They just couldn't afford to work for this kind of money.''

Current and former employees of Mr. Allen said the the departures included those of his longtime producer, associate producer, film editor, cinematographer, set photographer and costume designer, in a series of shifts that have become the talk of the New York film community...

The rest of the article is well-worth your time, but for our purposes that much of Weinraub's article explains the disappearance of Allen's repertory. You are encouraged to follow the link for the full read, however.
Fans of a given director often have a wish list of actors they'd like to see appear in their idol's forthcoming films. This is harmless. But getting an A-list name may not improve the film's overall quality as much as an actor or cinematographer with whom the director is familiar. Or in other words, if rumors of a 3-picture deal in Spain become fact, it may be good for Allen to recontract
Javier Aguirresarobe
, Penelope Cruz and Javier Bardem, if possible.
One can only hope future producers supply Allen with the financing to develop the sort of intimate relationship he once shared with his cast and crew.